BRIZ LOAN & GUITAR Buy-Sell-Trade or 90 Day Pawn on musical instruments.
The first all music pawn shop in the Pacific Northwest!
Guitars, amps, keyboard, synth, drums, brass, effects, pa and studio gear.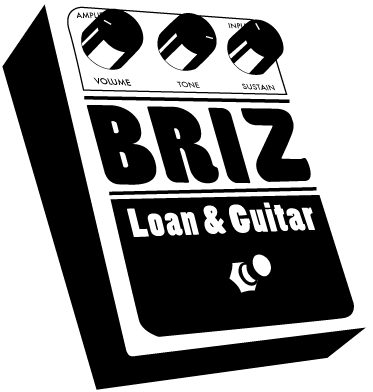 Briz Loan & Guitar - Serving local musicians since 1995.
We do not sell items on-line, by mail, or to dealers, so we can continue to provide to our local musicians.
Quick, easy, no credit check, 90 day cash loans, extendable, with safe storage for your musical gear.







BRIZ LOAN & GUITAR
506 WASHINGTON STREET VANCOUVER WA USA 98660-3138
Musical instrument specialty pawn shop!
Guitars, amps, keyboard, synth, drums, brass, effects, pa and studio gear.
BUY - SELL - TRADE - PAWN
Layaway - Gift Certificates

Our store hours are Monday - Saturday 10:00 AM to 6:00 PM (PST)
To be in compliance with city pawnbrokers ordinance we are closed:
NewYear, Memorial, Independence, Labor, Thanksgiving, Xmas, and SUNDAYS.
(XmasEve & NewYearsEve 10pm-5pm)
Phone: (360) 699-5626 - Toll free: (888) 205-CASH

NO SALES TAX TO OREGON BUYERS!
We are closer than you think - About a third of our biz comes from Oregon.






Ernie Ball, D'Addario, REMO, Pro-Mark, Quantum, and more.




Many effects boxes and NEW Electro-Harmonix effects in stock.




Drum set, cymbals, heads, and other drum hardware.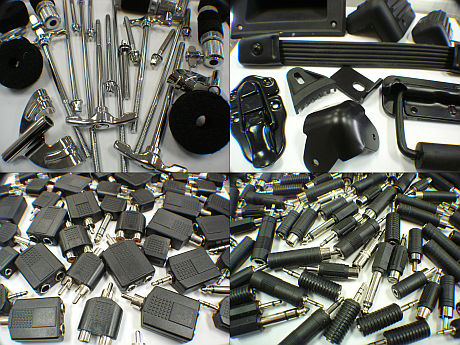 We have many audio adaptors, drums parts, and cabinet parts.

Buy any guitar and get 2 FREE LESSONS from Mr. G's School of Guitar

Need a BAND PRACTICE SPACE? check out REVERB REHEARSAL STUDIOS

LOCATION - PHOTOS - GOOGLE PLACES


The Crew
All our employees are musicians.


Nathan, Matt, Clarence


Matt Latorre has been with us since 2002 and formerly the drummer for Black Elk.

Clarence Robertson plays upright bass in The Whiskey Achievers and gigs regularly.

Nathan Hill has been working in music stores around the northwest since 2005. He is an expert in live sound, percussion, classic guitars, tube amps, effects pedals and analog synths. He plays drum set and guitar. He also has a noise project named HeavyModel along with a long history of playing in local bands writing and performing original music.


ABOUT BRIZ LOAN & GUITAR

Matt Brislawn, born and raised in Vancouver Washington. I opened Briz Loan & Guitar in the summer of 1995 with a desire to bring something that was missing in Vancouver, a used musical instrument shop. Growing up in Vancouver in the 80's there was only one new music shop in Vancouver with prices out of my budget. I could only dream of owing a guitar. Years later, about the same time I got my first legitimate job, a friend turned me on to pawn shops. I was using another friends bass and needed an amp so we headed to the then desolate downtown Vancouver to Cameo Loans. Funny part is, when we walked out, I was carrying a small $40 Crate bass amp under one arm and a $100 MicroMoog under the other. I didn't even know what the Moog was, it was just so freaky looking. My life was changed forever, I was now a Pawn Shop hound. From then on, everything needed for every band, pawn shops would be the first stop.

The name? Well, our family has been in Vancouver for 4 generations now. My grandfather, father, and myself have been called Briz by friends for quite some time now. It just seemed natural.

I have been playing electric bass and/or my MicroMoog since 1989, drums since 1999, and now confusing people with my electronics as Brizbomb since 2005.

We are committed to provide directly and exclusively to our local musicians. Thanks to our customers word-of-mouth support, our advertising is now nearly non-existent. Our success has provided us with the ability to create other music related projects such as Reverb Rehearsal Studios. Our employees have paid medical benefits and paid vacation. We are a monthly supporters of Clark Public Utilities' Green Lights program, verified Clark County Green Business, primary sponsor of CouvFestNW, support the Vancouver Food Cooperative, YWCA Clark County, donate monthly to Seva Foundation and regularly donate to other local fundraising events and charities. Without you, we cound not do this - THANK YOU for your support.


WHAT IS A PAWN?

A pawn is a collateral based loan where we hold your item in safe climate controlled and monitored storage for 90 days with 24 hour security. Loans may be rewritten on or before the 90th day by paying the interest. Interest is set by the State of Washington. Only after the 90 day loan period, if interest is not paid, is when items are placed up for sale. Over 80% of our customers either pick-up, or pay the interest to renew their loan. A valid state ID, drivers license, passport, or military ID is required. There is no credit check and transactions are not reported to any credit bureau. Our average loan is $100 and cost $117 to pick-up in 30 days.

More than 75 million people do not have a bank account or credit cards in the USA. In today's diverse society, many people depend on pawnshops to help them meet their daily financial needs not met by other financial institutions. Our customers represent the working families of America who have an unexpected need for a short term loan. Pawn loans keep the electricity on, rents paid and cars working. Working with law enforcement has always been an important part of operating a pawnshop. Briz Loan & Guitar complies with all federal, state and local regulations. If you wish to contact us with a notice of stolen musical instruments please include a case number and the name of the jurisdiction. Every item is recorded and cross checked with a national database through the local police department. For more information on PAWN SHOPS, visit: NATIONAL PAWNBROKERS ASSOCIATION. Give us a call for more info on how you can get a fast and simple cash loan on your music gear.


LOCATION - PHOTOS - GOOGLE PLACES


BRIZ LOAN & GUITAR Buy Sell Trade Pawn
Established summer of 1995 by Matt Brislawn (Briz) in Downtown Vancouver Washington USA

You can contact the office of the owner directly at the address shown below.



Please call the showroom for questions about gear (360) 699-5626
Thanks!